Educación ambiental
Detalles

Creado en

Domingo, 23 Diciembre 2012 13:33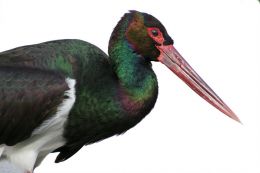 The death of CIGU, the most emblematic patient and friend of the Hospital, remind us where we come from and where we are right now in GREFA.
Now that 2012 finishes and we start to make memory and balance of what has happened during the past year, we cannot forget a fact that filled with sadness all the people that work at GREFA: the death of CIGU, the Black stork that for more than thirty years has lived with us, especially with the professionals and friends that worked together during the long time of formation and development of GREFA.
Talking about CIGU is talking about the history of GREFA. It entered our installations soon after we started our path. It was plundered from its nest when it was just a chick and this produced an imprinting that did not let us release it. CIGU did not identify itself with a Black Stork, but with a human being like us, to whom it was always claiming for attention, especially with Ernesto, with whom it paired on an idyll that lasted for years. Every year, on the breeding season, they built a nest together and make court one to another. Nonetheless, we tried to release it three times in Madrid and Extremadura, but it ended re-entering
GREFA every time. On one of these "releases" in Monfragüe, our friend ended inside the cabin of a tractor that was ploughing a land, asking for food. It did not tried to look for insects or small mammals between the ploughed land, so, without damaging any feather, it entered the recovery installations of the National Park. It was so famous that even became a main character of a quiz-programme on TV.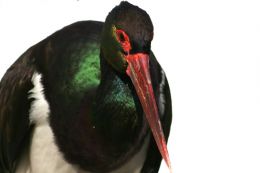 It saw the growing of GREFA during more than thirty years and testified all the changes that occurred at the installations. CIGU assisted the professionalization of GREFA and was seen by many friends and partners, that were fascinated by its beauty, especially by the iridescent tones on the neck and its brilliant feathers, that it always kept. It was also the main character of many articles and reports, and was even present on the front page of many environment magazines, one of which was a foreground picture taken by J.M. Reyero for Quercus nº 30 on 1988. While we write this article, we look with melancholy a picture of another Black stork on the front page of the last number of this conservationist magazine.
It was a great resource to explain the consequences of imprinting on wild animals. Because of this, during the last years, we moved it to one of the installations of the "Life Nature" Centre of GREFA, so that the visitors could know the story of the most ancient and friendly of the animals at GREFA. This installation was its home that, in fact, it defended very aggressively.
On one occasion it gave a severe hit with its beak to the responsible of a Nature programme that entered its territory and filmed it without asking, although he was warned about the bad temper of CIGU when it was disturbed.
With this special Black stork a little part of our history blew away. And, also, with its look and the movements of its neck, a little bit of consideration about the beauty of Nature and the incapacity of humans to appreciate it.
With CIGU a bit of GREFA leaves us, although its memory is an incentive to continue working. And even more now that blindness seems to impose everything else, making us return to those times when plundering Black stork chicks was not even a reason for a condemn by a society insensible to the conservation of nature.
It left us softly. Its organism, very old, could not continue. A week before, its eyes showed it: "I am leaving friends, it has been a pleasure". CIGU, we want you to know that the pleasure was also ours and, as all the good things that are loved, you will always be here.