As you well remember, last March the epic "Brínzola´s" journey came to a tragic end. After being released in the Sierra de la Demanda in October 2018 within the GREFA Monachus Project, a few months later she began a dispersive journey that took her across the entire continent to Norway, becoming the best ambassador of our project with which we could dream. We remind you that our Monachus Project has the ambitious plan to gradually recover the European population of the cinereous vulture.
This unprecedented trip, documented thanks to the GPS transmitter that she carried, revealed dispersive routes of the cinereous vulture unknown until that moment. At the same time, this epic journey created great interest among ornithologists throughout Europe, especially in those countries that it flew over. In fact, in some of them it was the first cinereous vulture that was observed or, at least, of which the observation was recorded. In the following map, which covers the European trip of "Brínzola" from April to November 2019, you can see the magnitude of his journey.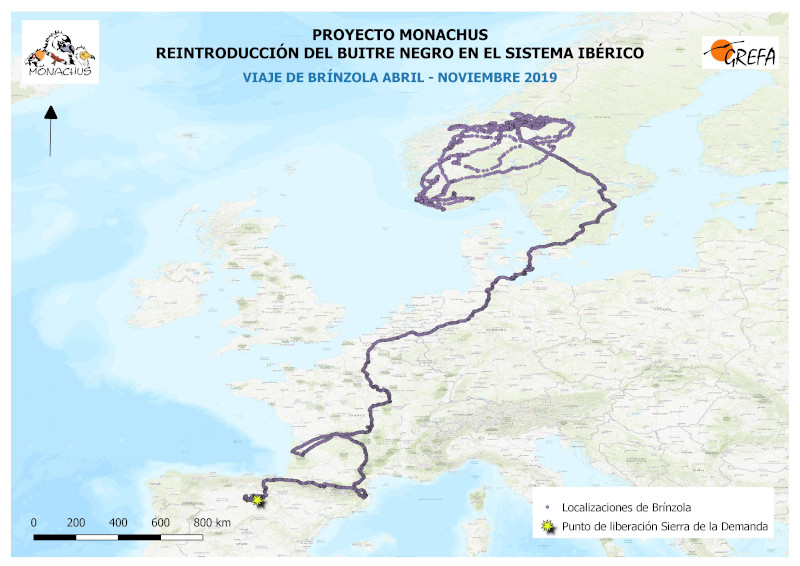 Thanks to the GPS information and GREFA collaborators in Norway, we could observe that "Brínzola" changed her behavior to adapt to the few hours of light in the Scandinavian country during winter, but she still found food and survived in the harsh northern winter.
Concerned about the possible total discharge of the battery of the transmitter that the bird was carrying, which would have left us without news of "Brínzola", we contacted the Norwegian Ministry of Climate and Environment to ask them the possibility of capturing and returning her to Spain. However, in the end it was not necessary, since the transmitter's battery gradually charged and "Brínzola" continued in good condition. After all, in the area where she was, the temperature did not drop any more than in the winters of the Burgos area where she came from.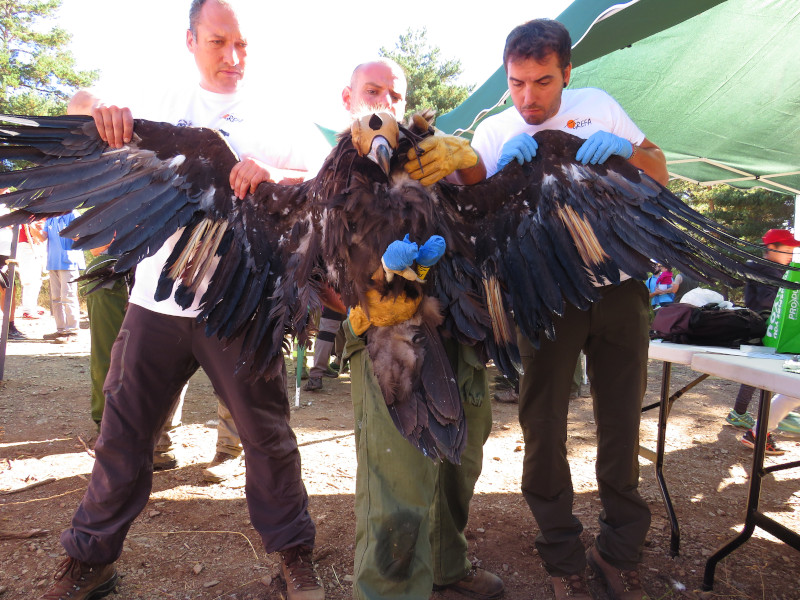 "Brínzola" held by GREFA collaborators during her GPS tagging in 2018 before being released in Sierra de la Demanda.
Accident, rescue and recovery
Unfortunately, on 20th March "Brínzola" had to be rescued in the province of Rogaland, in southern Norway. Sadly, a collision with a cable, possibly from an anemometer at a wind farm, ended her epic journey. Thanks to GREFA collaborators in Norway, "Brínzola" could be rescued and transferred to a veterinary clinic in a very short time since we received the signal from her transmitter indicating that something was wrong.
At all times, those responsible for the GREFA Wildlife Hospital were in contact with the veterinarian who was in charge of treating "Brínzola" at the Norwegian Wildlife Hospital. Reconstructive surgery was attempted to restore the functionality of the wing, but given the severity of the injuries, the solution had to be to amputate this wing to at least save her life.
The first idea was to bring her back to Spain and once here assess her incorporation into the reproductive stock of the captive breeding program or transfer "Brínzola" to the acclimatization area of the Sierra de la Demanda where we temporarily install the cinereous vultures that we release. In this place she could live in semi-freedom in the area where she herself had been released two years before, thus serving as a claim to attract cinereous vultures from other colonies (exogenous).
Meanwhile, Norwegian collaborators launched an online campaign to raise funds for the treatment of "Brínzola" and, in general, bird victims of wind farms [www.spleis.no/project/101775]. And then, the administrative problems came, aggravated by the pandemic.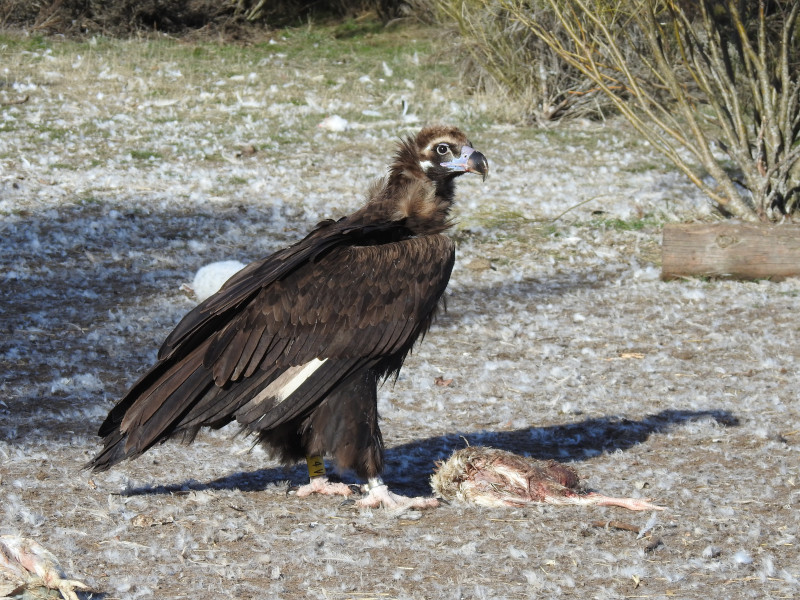 Nice picture of "Brínzola" after being released in the Sierra de la Demanda, in one of his visits to the feeding point for cinereous vultures (PAE) that we manage in this area.
She is in everyone's memory
After months of recovery in Norway, during which the vet traveled several times a week to care for and feed "Brínzola", the bird's condition got worse. Due to the situation imposed by COVID-19, with the borders closed, her transfer was delayed until finally the Norwegian authorities decided on euthanasia, based on the state animal welfare regulations that do not allow to keep unrecoverable animals.
We tried to reverse that decision, since the transfer was delayed due to administrative problems, but there was no turning back. "Brínzola" was euthanized and her remains were donated to the Stavanger Museum.
We always understood a decision made to avoid prolonging this dramatic situation any longer. In everyone's memory remains the incredible journey of this cinereous vulture and everything she has shown us about the dispersive movements of her species in Europe. In addition, the "Brínzola" accident has helped Norway to make the problem of bird mortality in wind farms and power lines more visible, since some local conservation organizations, such as Birdlife Norway, echoed the news and put it as example of the problems that these infrastructures cause in avifauna [https://www.birdlife.no/naturforvaltning/nyheter/?id=2575].
"Brínzola" in the Sierra de la Demanda, next to a griffon vulture and on a good layer of winter snow.
ACKNOWLEDGMENTS
A good number of collaborators and friends of the Monachus Project and GREFA have been in charge of locating, following and reporting on "Brínzola" in the different countries that it was flying over. Among them, we we would like to thank the following. In Norway: Terje Kolaas, Erik Bangjord, Morten Vang, Einar Sæter, Christian Tiller, Egil Ween, Geir Kristensen and Aviv Livnat (Norwegian Wildlife Hospital). In Denmark: Ulf Eschou Møller. In Germany: Martin Gottschling and Arne Torkler. In Belgium: Hans Matheve, Johan De Meirsman and Joachim Pintents. In France: to Martine Razine. Also to Hans Pohlmann, from the Vulture Conservation Foundation (VCF), the Ministry for the Ecological Transition and the Demographic Challenge of Spain (Miguel Aymerich, Rubén Moreno-Opo and Luis Mariano González) and the Ministry of Climate and Environment of Norway ( Jo Anders, Knut Vangen and Ivar Mykleburts). Egil Ween shared videos and photographs with us.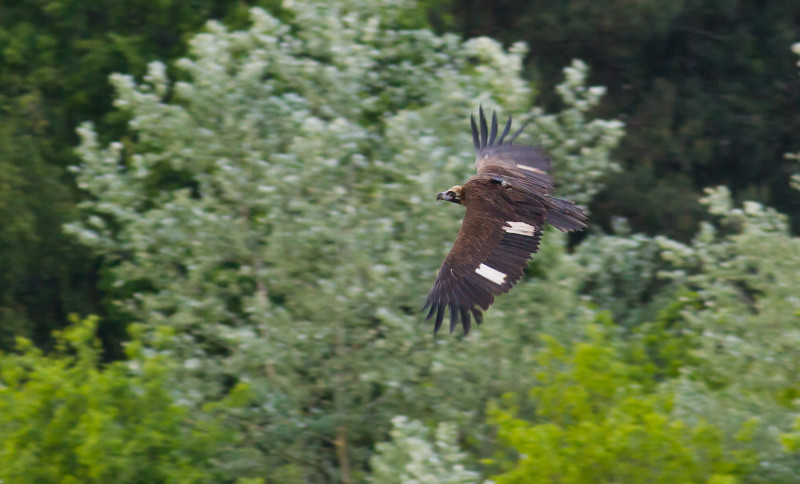 "Brínzola" photographed in flight over Belgium in early May 2019. Photo: Joachim Pintens.
"Brínzola" perched in an agricultural field with open wings during her stay in Germany. Photo: Arne Torkler.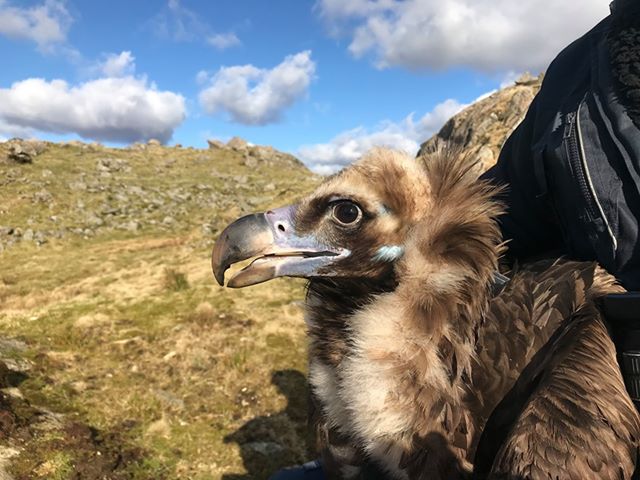 "Brínzola", in the hands of one of GREFA's collaborators who rescued her after her accident in Norway. Photo: Egil Ween.
MORE ABOUT THE MONACHUS PROJECT
The Monachus Project for the reintroduction of the black vulture in the Sierra de la Demanda is possible thanks to GREFA, with the support of the Ministry for the Ecological Transition and the Demographic Challenge (Miteco) through the Fundación Biodiversidad, Red Eléctrica Española (REE), the local action group AGALSA, EDP Renovables and the Government of La Rioja, together with the collaboration of the Junta de Castilla y León, the Fundación Patrimonio Natural de Castilla y León, the City Council of Huerta de Arriba (Burgos) and the Service Protection of Nature (SEPRONA). In addition, Miteco provides technical support for the tagging of released cinereous vultures with GPS transmitters. More information about the Monachus Project: http://proyectomonachus.grefa.org/