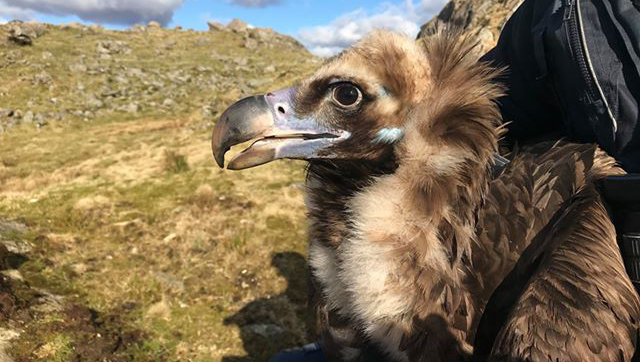 "Brínzola", en manos de uno de los colaboradores noruego del Proyecto Monachus que la rescató. Foto: Egil Ween.
A year has passed by since the female cinereous vulture named "Brínzola", released in La Sierra de La Demanda (2018) as part of GREFA's Monachus Project (2018), started her epic journey through Europe until her arrival to Norway. Sadly, this adventure has come to an end in an area with windmill facilities, where she had a terrible accident. At this time, everything in our hands is being done to save her.
This accident, most probably due to an accesory windmill structure or cable, lead to a quick rescue after her transmitter gave our team an accurate position where she could be found in the south of the country, at Rogaland province. The information sent by her transmitter reported some odd positions and a lack of movements.
The bird had a badly broken wing and is being held at a specialised center, the Norwegian Wildlife Hospital. Aviv Livnat (the head veterinarian) is counting on GREFA's support and our own veterinary staff is collaborating on this case. After a complicated surgery which aimed to fully restore the damaged wing, the wing had to be amputated in order to ensure Brínzola's life.
The next map shows the positiones reported from the 20th of February across the south-western coast of Norway. The white arrow shows the position where she had to be rescued.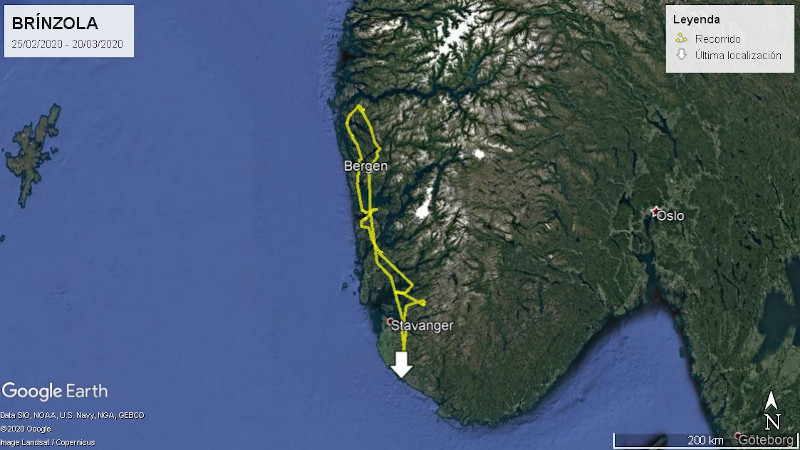 This video, shared by our collaborators in Norway, shows Brínzola's rescue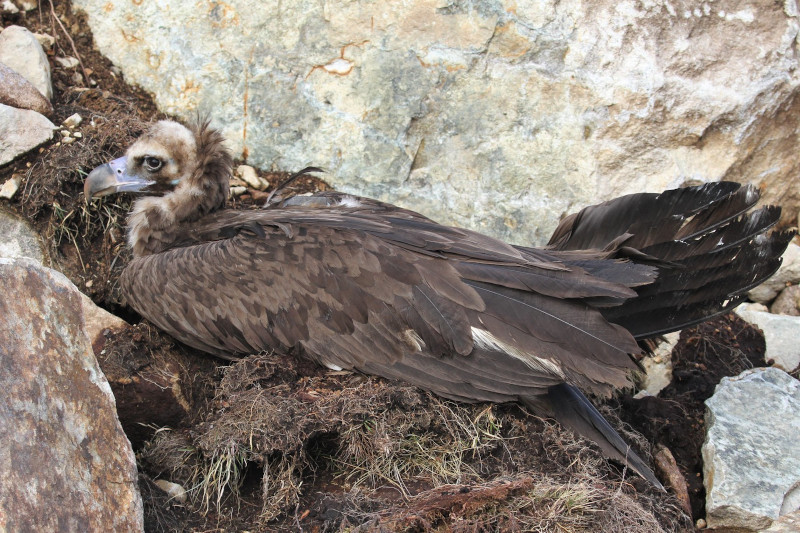 "Brínzola", en el momento de ser localizada con una fractura de ala, en la zona donde hubo que ir a rescatarla. Foto: Egil Ween.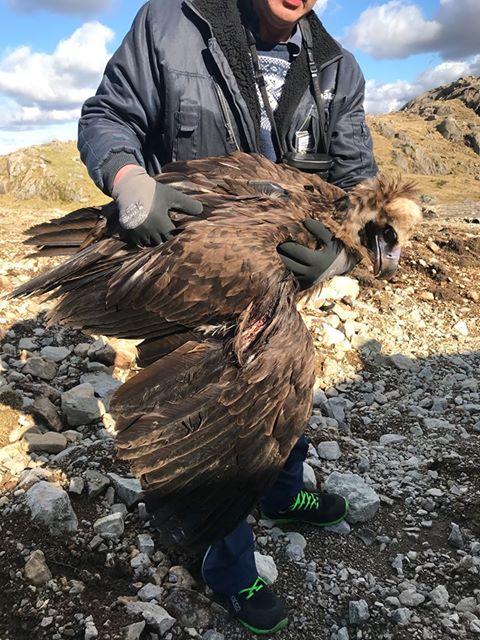 En esta fotografía de "Brínzola" durante su rescate se aprecia la grave herida en su ala derecha producida por la colisión que sufrió. Foto: Egil Ween.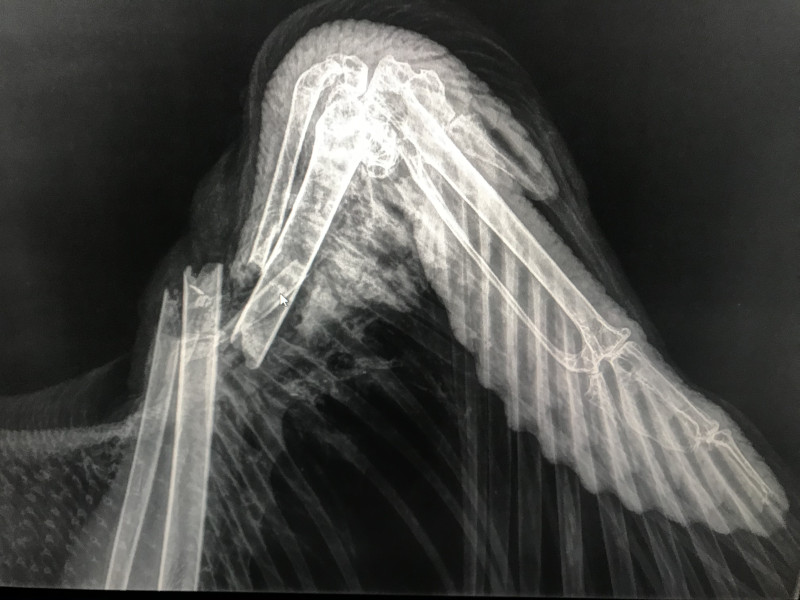 Radiografía del ala derecha de "Brínzola", con la fractura que ha sufrido. Foto: Egil Ween
Huge impact across Europe
"Brínzola" was released along other 15 vultures in 2018 as part of the program that aims to restore the long-extinct populations of cinereous vultures in the northern part of the Iberian mountains, within the Monachus Project developed by GREFA.
Since the begining of her epic journey in March 2019, "Brinzola" has flown over 8 countries, reaching Norway after a non-stop 3000km trip. She remained in Norway since May, a country that has never witnessed this species in its skies, flying over to Sweden from time to time.
The next map shows Brinzola's positiones since April 2019 to November 2019, and pictures the magnitude of her journey.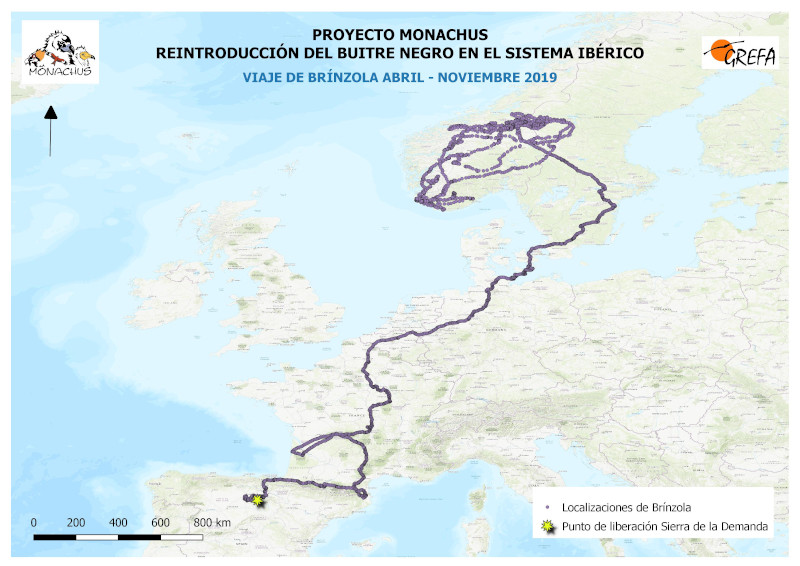 Brinzola's epic journey has had a huge impact on birders and naturalists throughout Europe and the countries she has passed by. We don't actually know the reasons behind this peculiar behavior but we do see in Brinzola the spirit that GREFA has always had regarding the conservation of our european scavengers, a group of birds that know no borders and wish to see a connected population from East to West.
Messenger of a new wild with out borders
"Brínzola" is not the only wanderer cinereous vultures included in our program. Another individual released in La Demanda as part of the Monachus Project, "Cid" has surprised us as well. Cid was born in our captive breeding program in 2019 and started a migration over the Sahara. He spent the winter in Africa and started to return to The Iberian peninsula. His trip lead him to Argelia though, where he remains now.
We will keep you posted on Brinzola's evolution, a bird that carried a message of hope and showed us that nature know no boundaries.
"Brínzola" en vuelo fotografiada a su paso por Bélgica a principios del pasado mayo. Foto: Joachim Pintens.
AKNOWLEDGMENT
A great number of collaborators and GREFA and Monachus project's friends tracked Brinzola's positions and reported regularly about her whereabouts in Europe. Among them we would like to thank Terje Kolaas, Erik Bangjord, Morten Vang, Einar Sæter, Christian Tiller, Egil Ween, Geir Kristensen and Aviv Livnat (Norwegian Wildlife Hospital) for their support in Norway. Ulf Eschou Møller from Denmark. Martin Gottschling and Arne Torkler from Germany. Hans Matheve, Johan De Meirsman and Joachim Pintents from Belgium. Martine Razine from France. Hans Pohlmann from the Vulture Conservation Foundation (VCF), the Ministerio para la Transición Ecológica y el Reto Demográfico de España, the Ministry of Climate and Environment of Norway and Roberto Vega Solana, Brinzola's sponsor. We would also like to thank Egil Ween for the pictures and video that made this report possible.
MORE INFO
On-line Campaing to fund Brinzola's treatment along with other injured birds in windmill farms in Norway: https://www.spleis.no/project/101775
PREVIOUS NEWS
Worried about 'Brínzola', we peoposed Norway to catcher and arrange her return to Spain
https://grefa.org/component/content/article/116-proyectos/vulturnet/buitre-negro/proyecto-monachus/noticias/3458-preocupados-por-brinzola-hemos-propuesto-a-noruega-capturar-y-devolver-a-espana-a-este-carismatico-buitre-negro
Female cinereous vulture 'Brínzola' shows us ancient dispersion routes of her species to northern Europe
https://grefa.org/component/content/article/116-proyectos/vulturnet/buitre-negro/proyecto-monachus/noticias/3384-la-hembra-de-buitre-negro-qbrinzolaq-nos-desvela-desconocidas-rutas-dispersivas-de-su-especie-hacia-el-norte-de-europa
'Brínzola' reaches Sweden after a 3000 km trip
https://grefa.org/component/content/article/116-proyectos/vulturnet/buitre-negro/proyecto-monachus/noticias/3288-brinzola-llega-a-suecia-tras-recorrer-mas-de-3000-kilometros
'Brínzola', a cinereous vulture included in the Monachus Project, travels to Belgium and the Neatherlands after a 3000km flight
https://grefa.org/component/content/article/116-proyectos/vulturnet/buitre-negro/proyecto-monachus/noticias/3282-brinzola-buitre-negro-del-proyecto-monachus-viaja-hasta-belgica-recorriendo-mas-de-3000-kilometros